Growth Activator
Ashwagandha Exosome Hair Serum
A new and patent-pending advancement in scalp support, Growth Activator is the first of its kind: an extremely fast-absorbing and lightweight hair serum formulated with Ashwagandha Exosomes to boost cell renewal and naturally activate visibly thicker, stronger hair in as little as 90 days. Growth Activator Hair Serum plays nicely with a daily Nutraceutical regimen. For best results, keep consistent.1-3
From seed to scalp,
we are rooted in science.
Discover the science of patent-pending plant exosome technology.
By upcycling the seeds from the same Ashwagandha we use in our Nutraceuticals, we unlocked a proprietary technology to extract plant exosomes.
Ashwagandha Exosomes contain RNA, Lipids, and Protein, and are 150x smaller than the Ashwagandha used in other products.
Lightweight, fast-absorbing, and effective, this revolutionary hair serum delivers living plant matter directly to the scalp to boost cell renewal for visibly thicker, stronger hair.
Natural, whole-plant powered hair serum.
Ashwagandha Exosomes
As a stress adaptogen, the Ashwagandha plant is an essential ingredient in our Nutraceutical formulations. Through continued innovations, we discovered there was more to love. Ashwagandha exosomes boost cell renewal and provide stress protection on the scalp.
Proprietary exosome
extraction method
Pea Sprouts
Improve visible breakage and promote visible thickness.1
Irish Moss Peptides & Maca
Support visibly thicker, stronger hair.2
Sea Buckthorn & Moringa
Nourish, support, and hydrate the scalp and hair.4-6
Activate visibly thicker hair
Minimize breakage for stronger hair
Nourish and hydrate your scalp
Pair with a daily Nutraceutical regimen for optimized results
87%
saw healthier hair
after 30 days*
85%
saw improvement in hair
quality after 30 days*
*In a clinical study testing the daily use of Growth Activator.1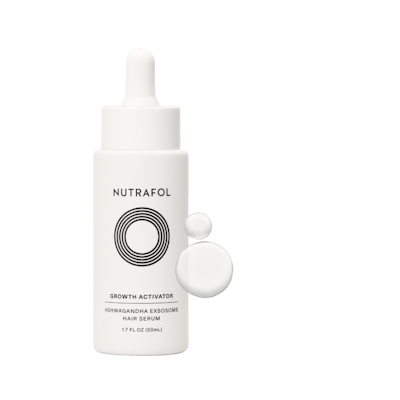 Growth Activator
Other Products
ABSORBABLE DELIVERY TECHNOLOGY
How to use: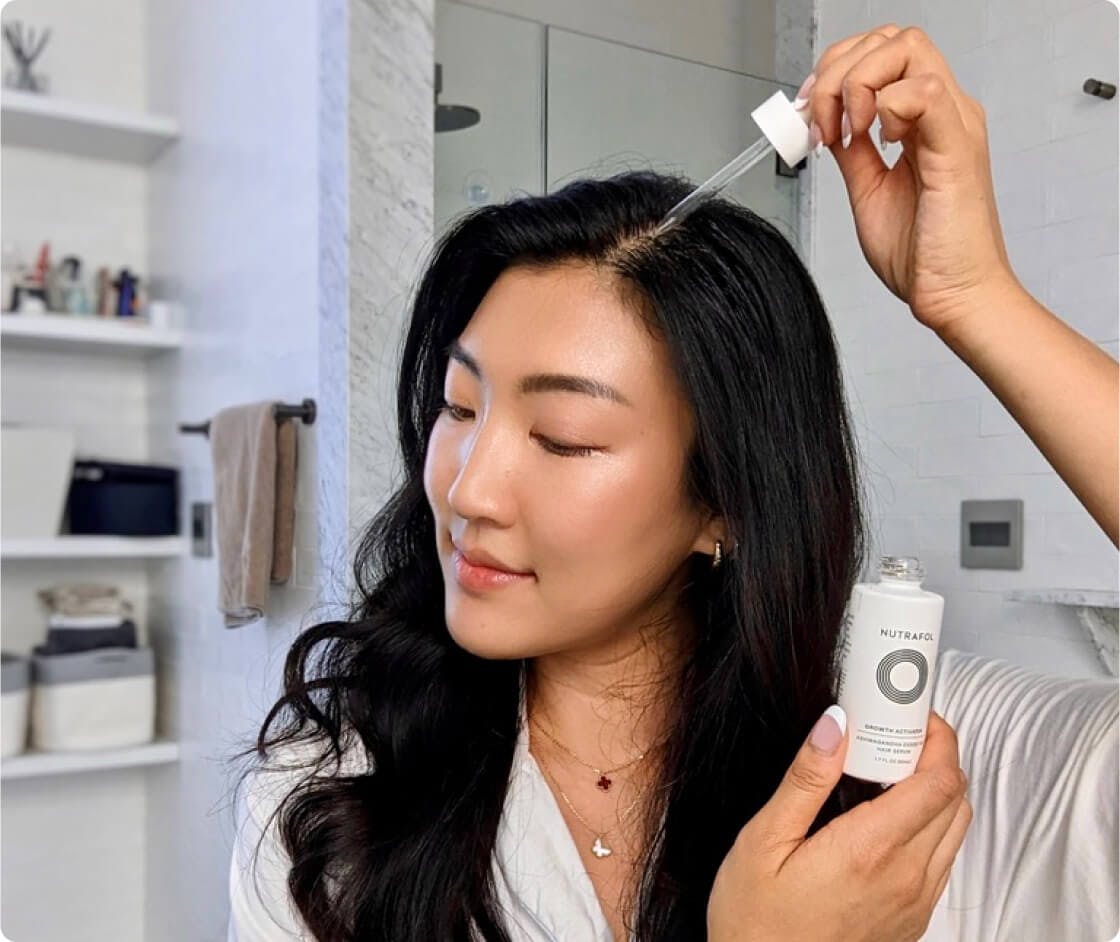 How to use:
Once daily, apply the serum to your scalp, sectioning hair with the dropper tip as you go.
Use enough to lightly cover areas of thinning like temples, crown, part, and hairline.
Massage into your scalp with your fingertips. Let it absorb and style your hair as usual.
Depending on your usage, a bottle of Growth Activator typically lasts 1-3 months.
~ 1 month
applying to entire scalp daily.
~ 3 months
applying to specific areas of concern daily.
Physician-formulated. Natural. Vegan. Clinically effective ingredients and recyclable packaging.
For external use only. Do not ingest.
We're serious about facts. Ask away.
When will I see results from the Growth Activator Hair Serum?
When used daily, benefits like a nourished scalp and healthier hair have been seen in as little as 30 days. After 90 days, Growth Activator's potent ingredients activate thicker-looking hair that feels stronger. You may also notice less breakage and more density. Results may vary.
Does the Growth Activator Hair Serum work faster than Nutrafol's hair growth supplements?
No, Growth Activator was formulated to provide direct scalp support to activate thicker-looking hair and complement Nutrafol's Hair Growth Nutraceuticals that target the root causes of thinning hair from within. We recommend using them both to maximize your hair growth results.
How long does a bottle of the Growth Activator Hair Serum last?
This is a bit different for everyone. One bottle typically lasts 1-3 months. If you're applying it to the entire scalp, it will last closer to one month. When using the serum just in specific areas of concern, the bottle will last an average of 3 months.
Can Nutrafol's Growth Activator be used on eyebrows and eyelashes?
No, our Growth Activator hair serum is formulated to be used on the scalp specifically. It has not been tested for safety or efficacy on eyebrows or eyelashes and should not be used in those areas. The most important step you can take for healthy hair, lashes, and brows is to take our daily hair growth supplements to improve them from within.
Can Growth Activator be used while pregnant or breastfeeding?
Growth Activator is formulated with clean, natural ingredients that are not associated with any side effects for pregnant or breastfeeding women. We do recommend always consulting with your physician before using any new products.
Was the Growth Activator tested on animals?
Our Growth Activator Hair Serum is vegan. It contains no animal product and was not tested on animals. Our tests are performed only on human volunteers!
When should I apply Growth Activator and should my hair be wet or dry?
Growth Activator should be applied once a day, every day directly to the scalp. Since you're focusing application on the scalp, it can be used when hair is dry or when hair is damp and towel-dried after a shower.
How can we help?
We're here for you Monday - Friday, 10am to 4pm (EST).
1. Mibelle. 2014. 2. Data on file. 2010. 3. Nutrafol. Data on file. 2021. 4. Zielinska, A. Lipids Health Dis. 2017. 5. Ali, A. Postep Derm, 2014. 6. Yang, B. JAC. 2008.