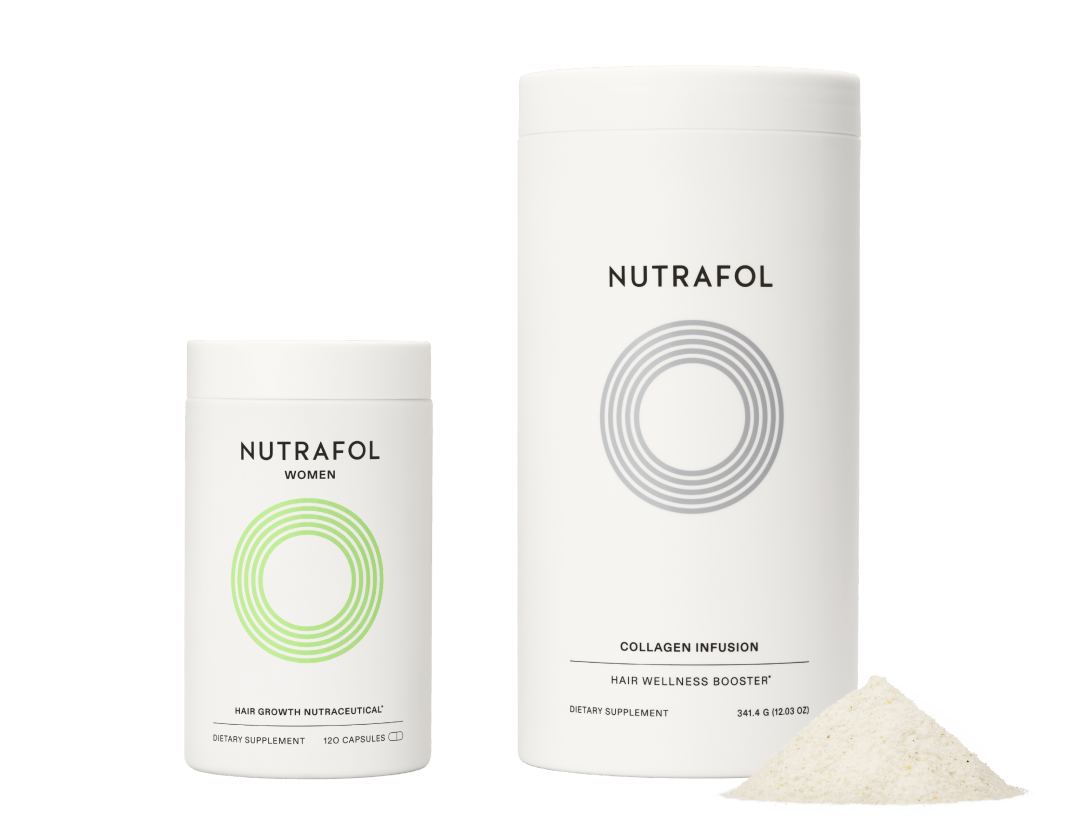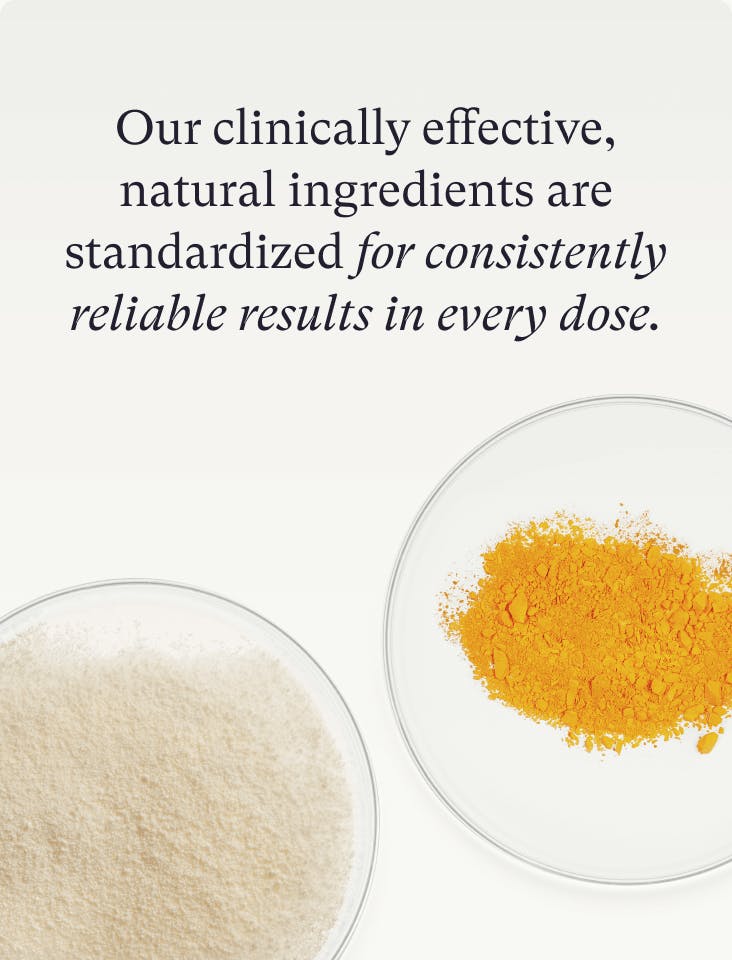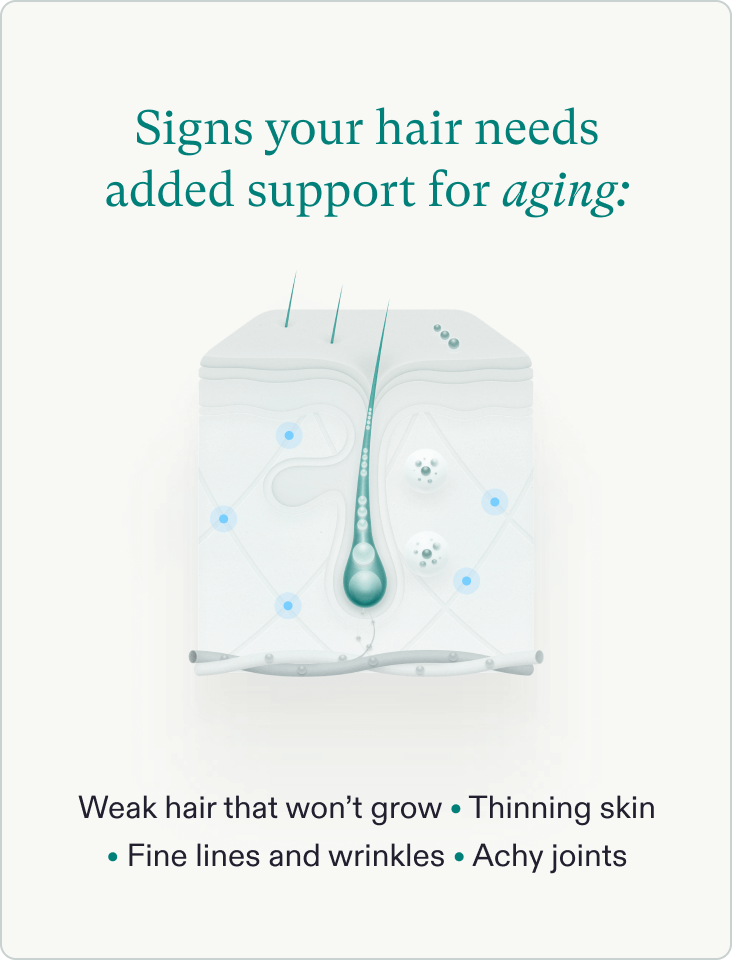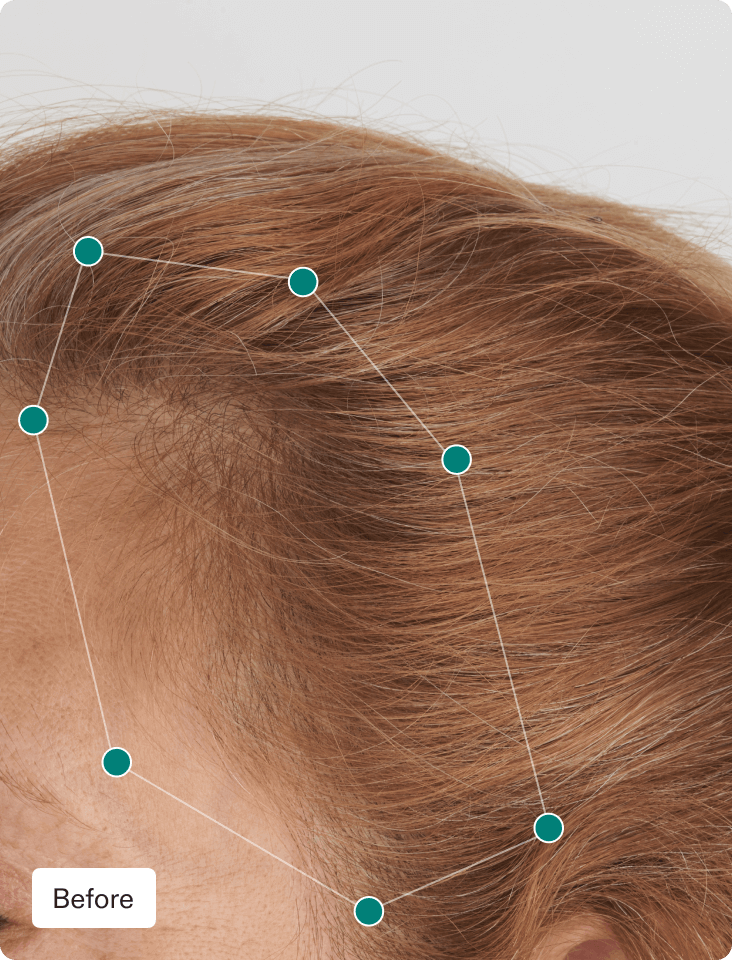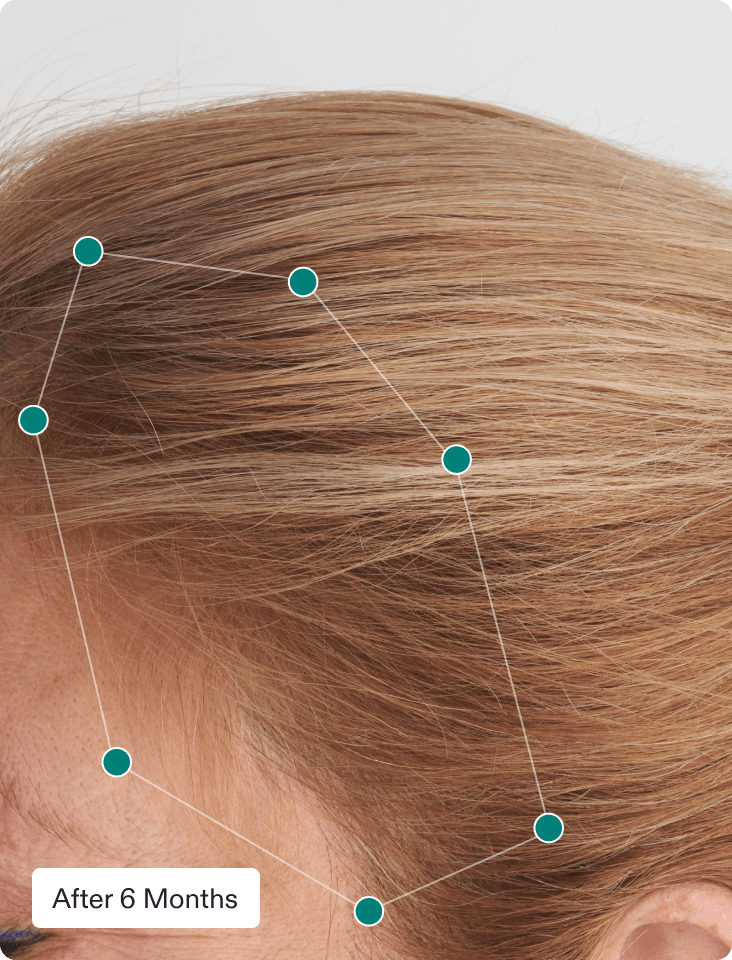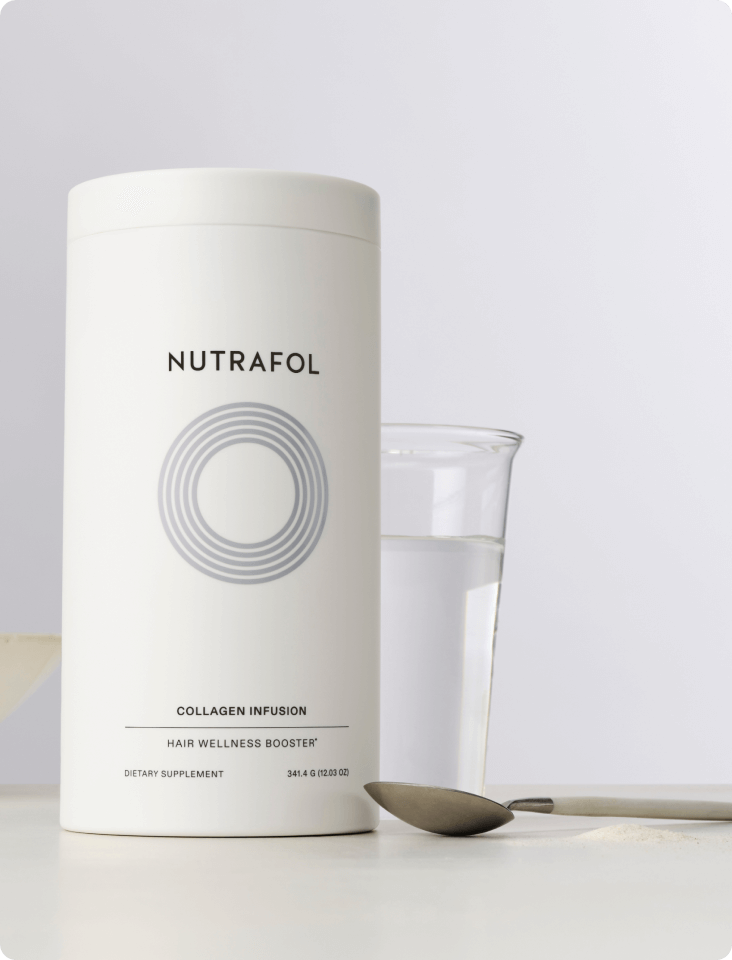 Strengthening Hair Growth Duo
Hair Growth Nutraceuticals
Improves hair growth by targeting root causes of hair thinning with added support from strengthening Marine Collagen Peptides to combat the effects of aging.1-9
Choose a Hair Growth Nutraceutical:
Choose a Delivery Schedule:
Natural, medical-grade ingredients
Get results
in 3-6 months
Once daily, and with a meal, take 4 capsules of your Nutraceutical—an efficacious dosage that contributes to visible results in 3-6 months.
Add 1 scoop of Collagen Infusion to 8oz of hot or cold liquid daily.
Tear open the refill pouches and pour the contents into the reusable jars once empty.
Visibly thicker volume2
Visibly less shedding2
Hair that grows faster, stronger, and longer1,2,5-7
Visibly thicker lashes and brows2
Reduces feelings of stress10
Improves sleep10
Increases skin hydration and elasticity5,6,8
Reduces visible signs of aging8,9
Gluten, dairy, soy, hormones, drugs, artificial additives. Non-GMO.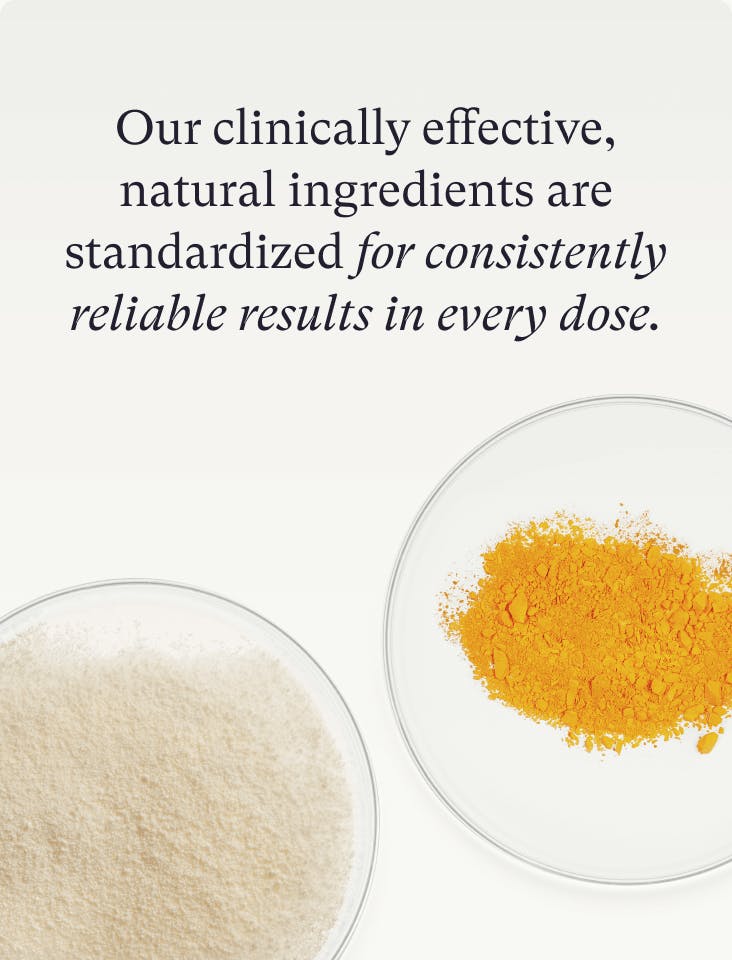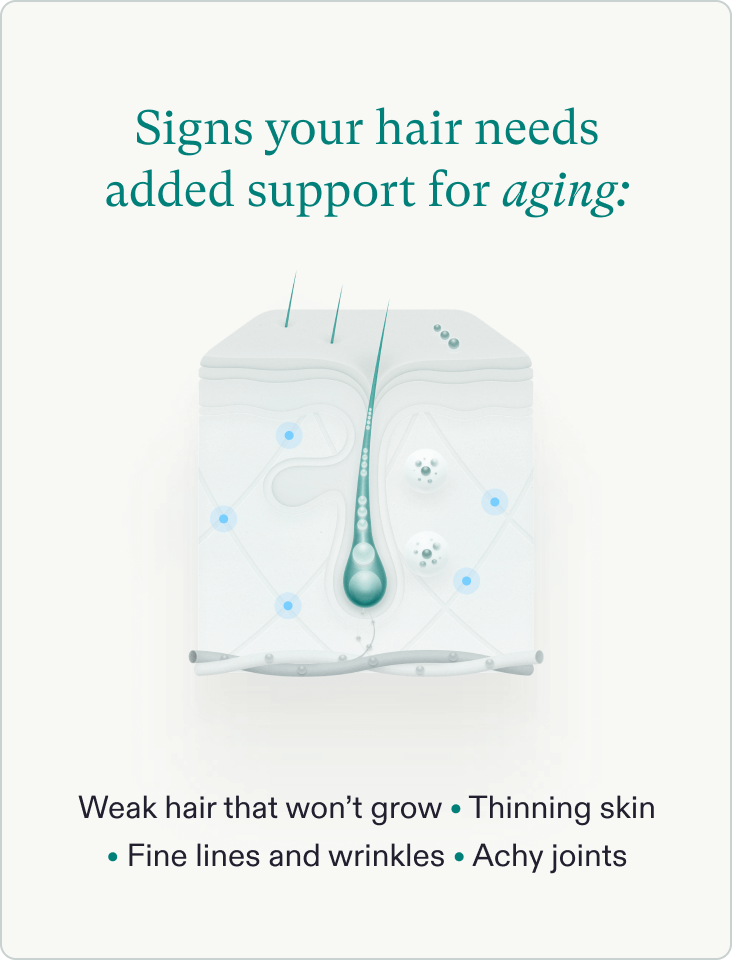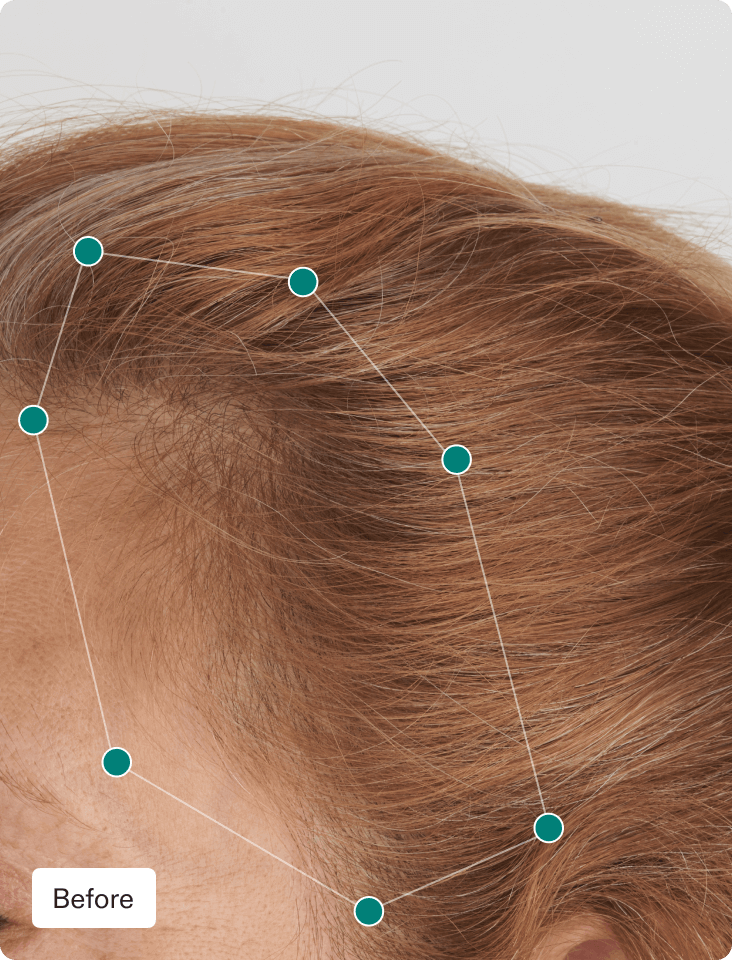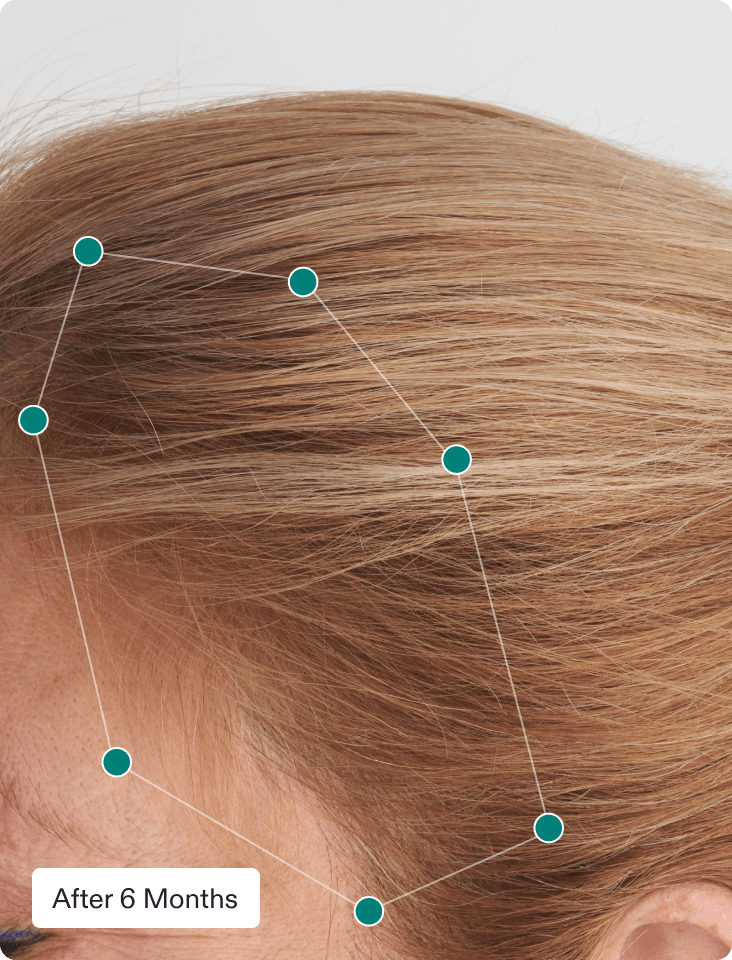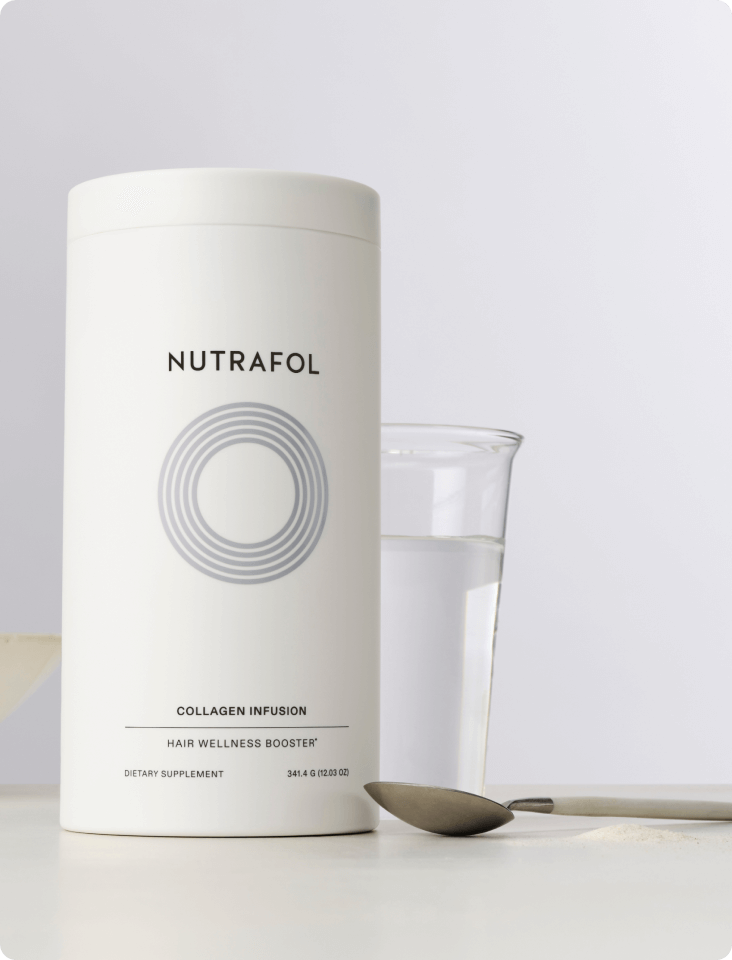 A 2-tiered approach to target the 6 root causes of thinning with added support to combat the effects of aging on hair.
A 2-tiered approach to target the 6 root causes of thinning with added support to combat the effects of aging on hair.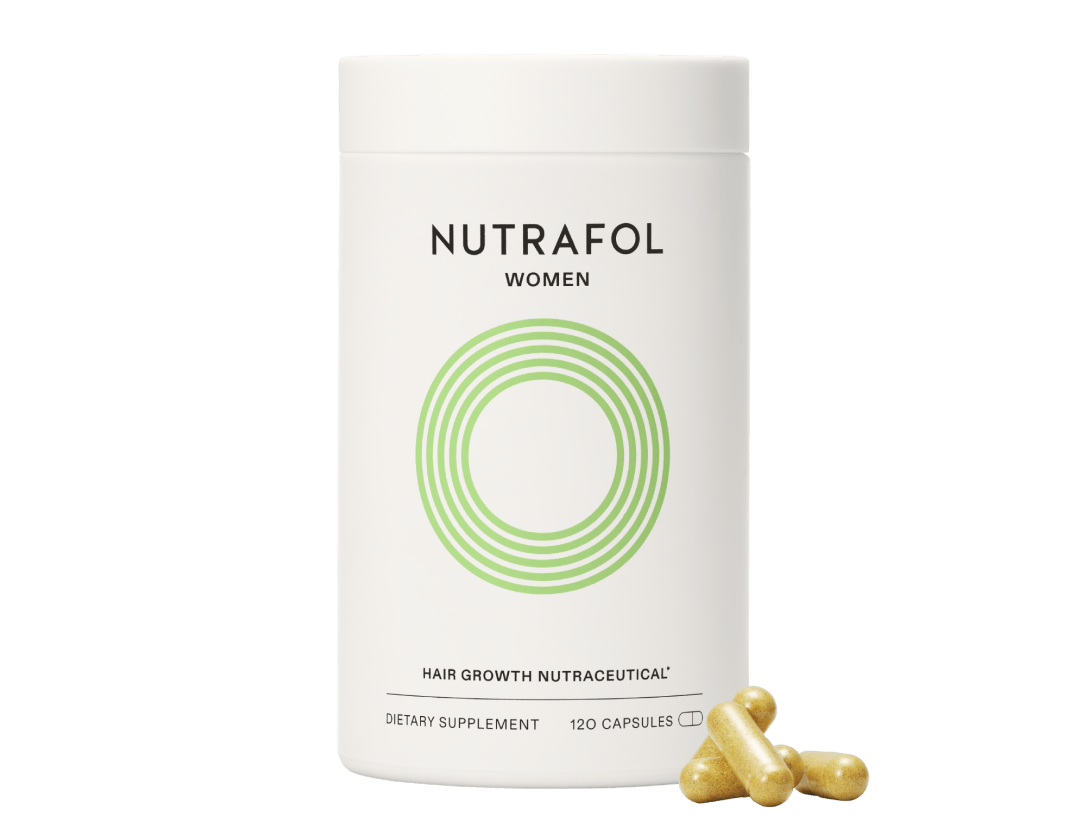 Hair Growth Nutraceuticals
The Foundation for Hair Growth
Improves hair growth, visible thickness, and strength by targeting multiple root causes of thinning.1-4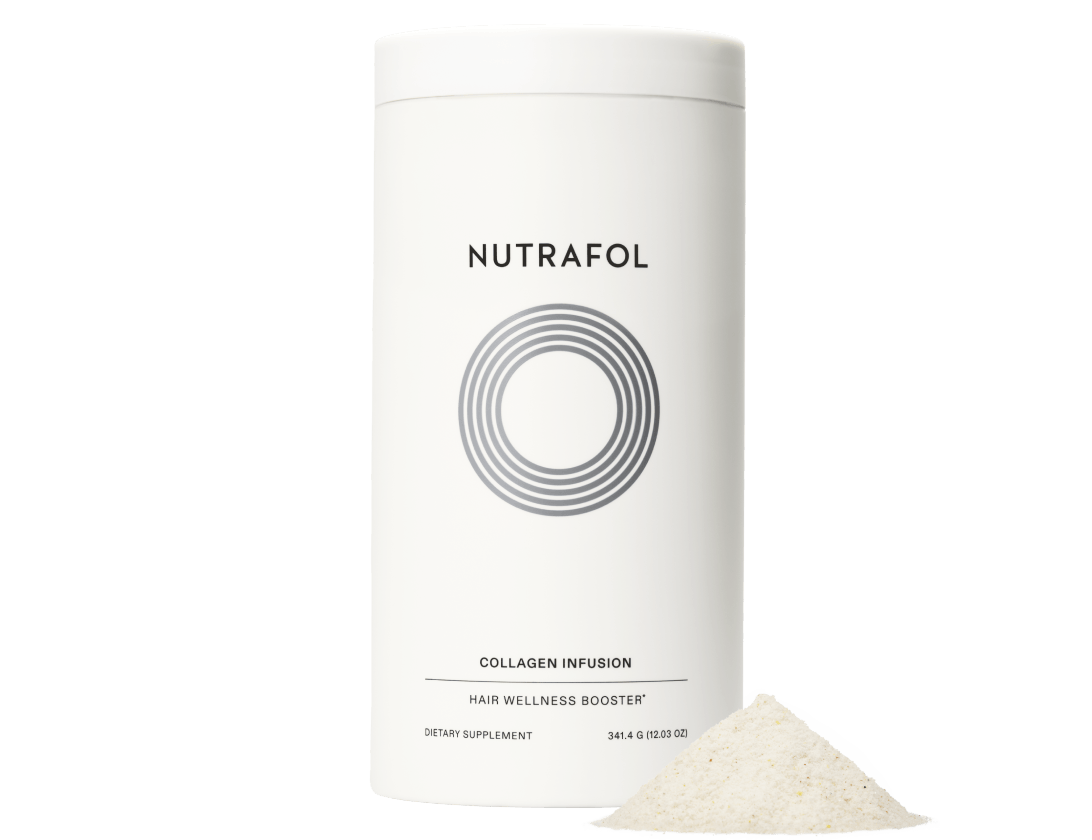 Collagen Infusion
Strengthens hair and replenishes lost collagen as a root cause of aging hair with bioavailable Marine Collagen Peptides and Citrus Flower Acids.5-9
What happens to your body and your hair
when you age?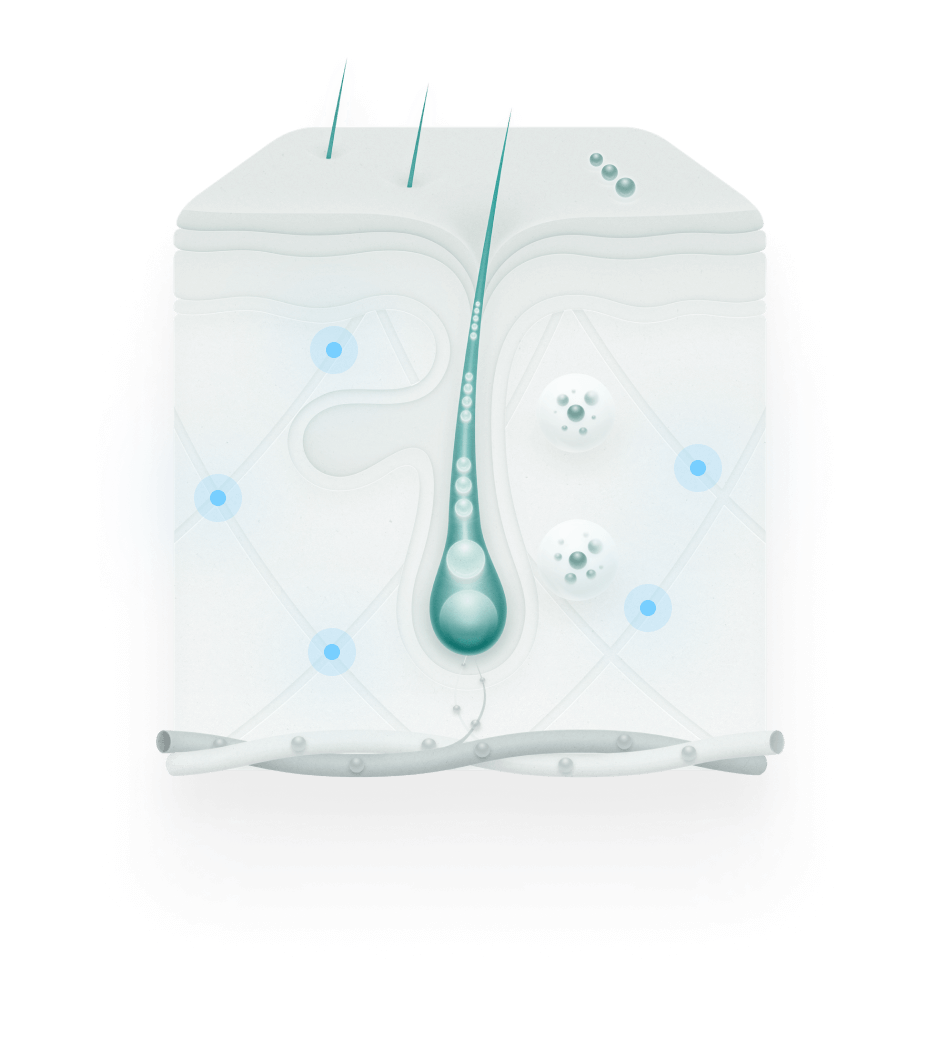 By age 30, your body has already started breaking down the collagen in your skin and scalp.
Hair thinning, coarse texture, weakened hair that grows slowly, thin skin, fine lines and wrinkles, achy joints, and brittle bones can all be signs of aging.
The scalp loses collagen and elastin as you age. This structural breakdown prevents key components like blood vessels, lipids, melanocytes, and nerve endings from protecting, hydrating, and replenishing nutrients needed for hair growth. As a result, hair becomes shorter, weaker, and less pigmented.
We use Marine Collagen Peptides to replenish key amino acids that build strong hair and provide hydration to the scalp, plus Vitamin D to reduce hair damage.
Results you can see and feel.
Visibly thicker and stronger hair in 3-6 months.
Tyler, 40
Using Women's Hair Growth Nutraceutical for 6 months.
Using Women's Hair Growth Nutraceutical for 6 months.
Marina, 60
Using Women's Balance Hair Growth Nutraceutical for 6 months.
Using Women's Balance Hair Growth Nutraceutical for 6 months.
We're serious about facts. Ask away.
We do not recommend taking Collagen Infusion if you are pregnant or breastfeeding. Please consult with your healthcare provider before adding any supplement to your routine.
No. Collagen can only be made by animals and never by plants. Products that market themselves as plant collagen combine proteins to artificially mimic collagen's amino acid profile, but they are not produced in peptide form, which contributes to their efficacy. Other plant collagen formulas use ingredients to stimulate collagen production in the body. The Marine Collagen Peptides in Collagen Infusion come from the scales of wild-caught cod from pristine waters in a region where the fish thrive due to the sustainable practices of our fishery. The Collagen Peptides are upcycled from the scales, a part of the fish that is typically disposed of while cooking. Collagen Peptides from a marine source are quickly absorbed and recognized by the body as useful in supporting healthy hair.
By age 30, collagen and elastin begin breaking down. This can result in thin, dry, weak hair that breaks more frequently. You may even notice your hair can't grow as long as it once could. If you are experiencing these signs, aging may be a prominent root cause of your hair thinning. Take our quiz to find out.
Collagen Infusion is formulated to strengthen hair by providing targeted support for aging as a root cause of hair thinning—but collagen cannot improve hair growth on its own. To create the most effective regimen, it is meant to be used with our hair growth Nutraceuticals, which create a strong foundation for hair growth by addressing all 6 key root causes of hair thinning.
Just add 1 scoop of Collagen Infusion to 8-12 ounces of hot or cold liquid and stir. This booster dissolves quickly and completely, leaving no texture or taste. You can also add it to food that contains some water content to help it dissolve, like yogurt, soup, or a smoothie.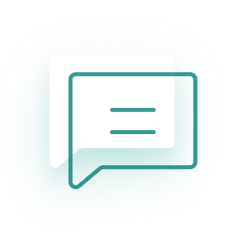 Have questions?
Chat with our customer support team.
Monday - Friday 9am to 6pm (EST).
You can also text or call us at:
Or reach us via email at: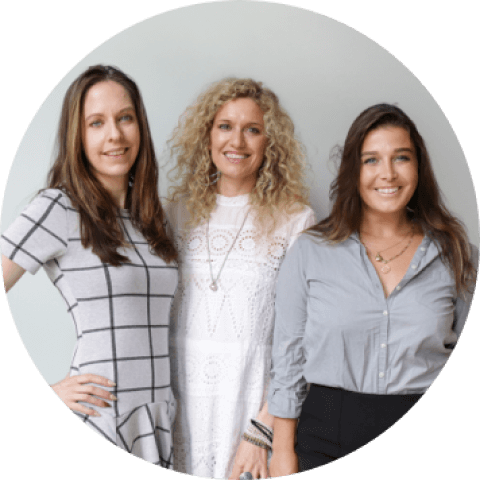 We're here for you.
More than a supplement subscription, we're committed to supporting you as you grow.
*According to IQVIA Provoice survey for 18 months ending March 31, 2022.
1. Ablon G. J Drugs Dermat, 2018. 2. Stephens T. et al., JCAD 2022. 3. Ablon G, et al. JDD, 2021. 4. Berkowitz S, et al. ASDS, 2020. 5. Kim, D. Nutrients 2018. 6. CBM, 2021. 7. Muizzuddin, N. NMJ, 2019. 8. Zmitek, K. Biofactors. 2017. 9. Kim, J. Arc Pharm Res, 2011. 10. Auddy B HJ. JANA. 2008. 11. Zlotta, A.R. Eur Urol, 2005. 12. Pytel, Y.A. Advanced Therapeutics, 2002.