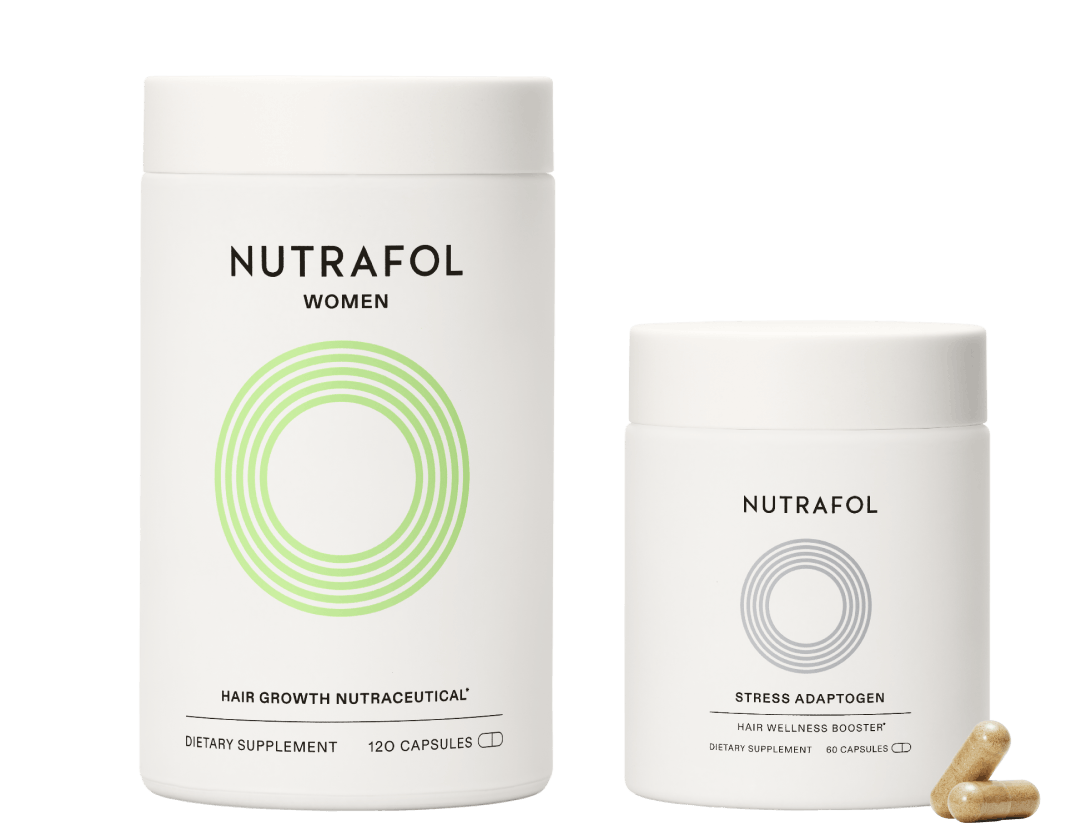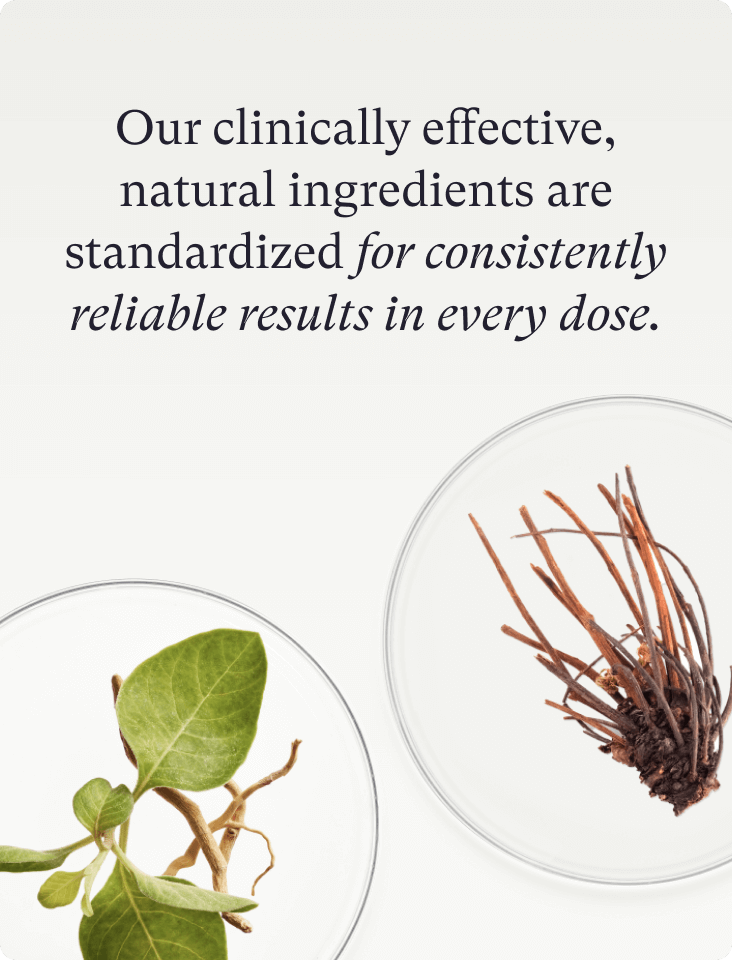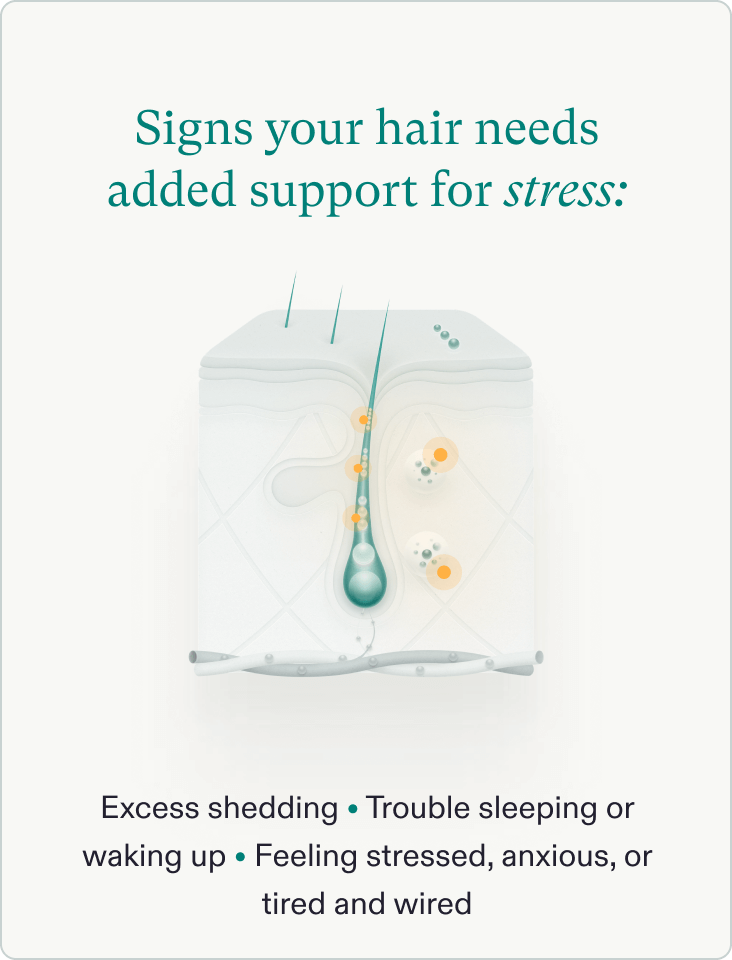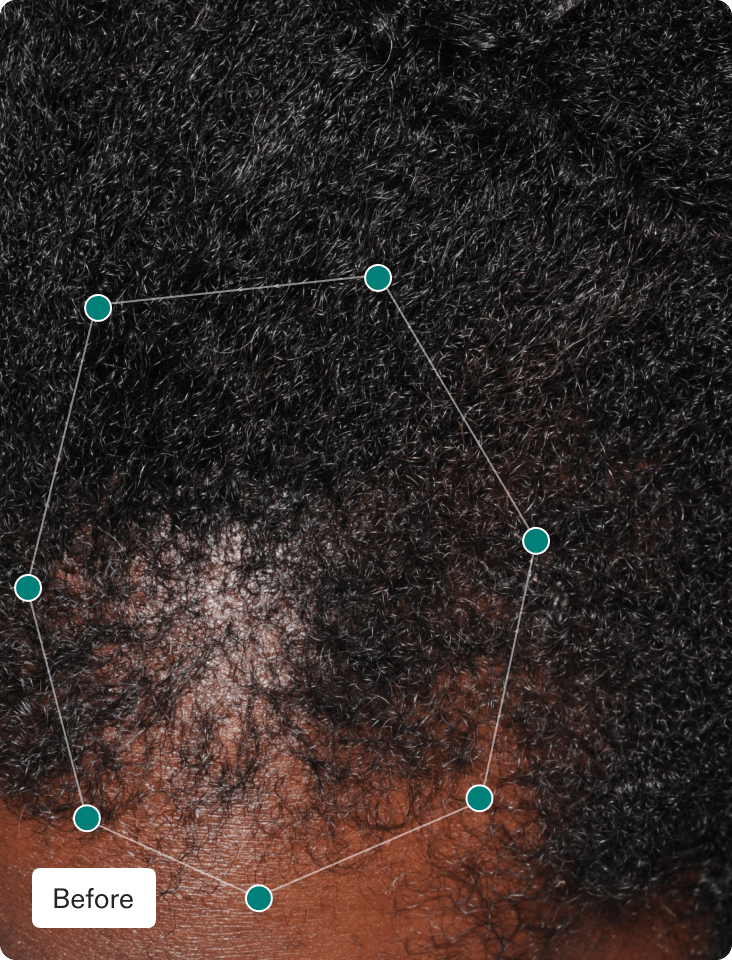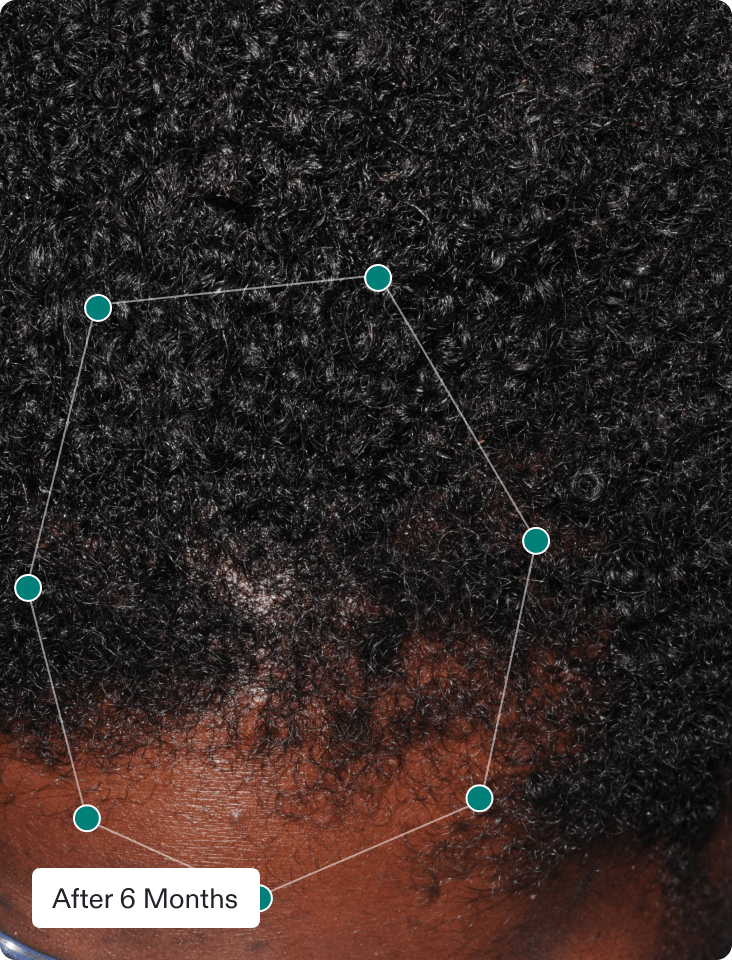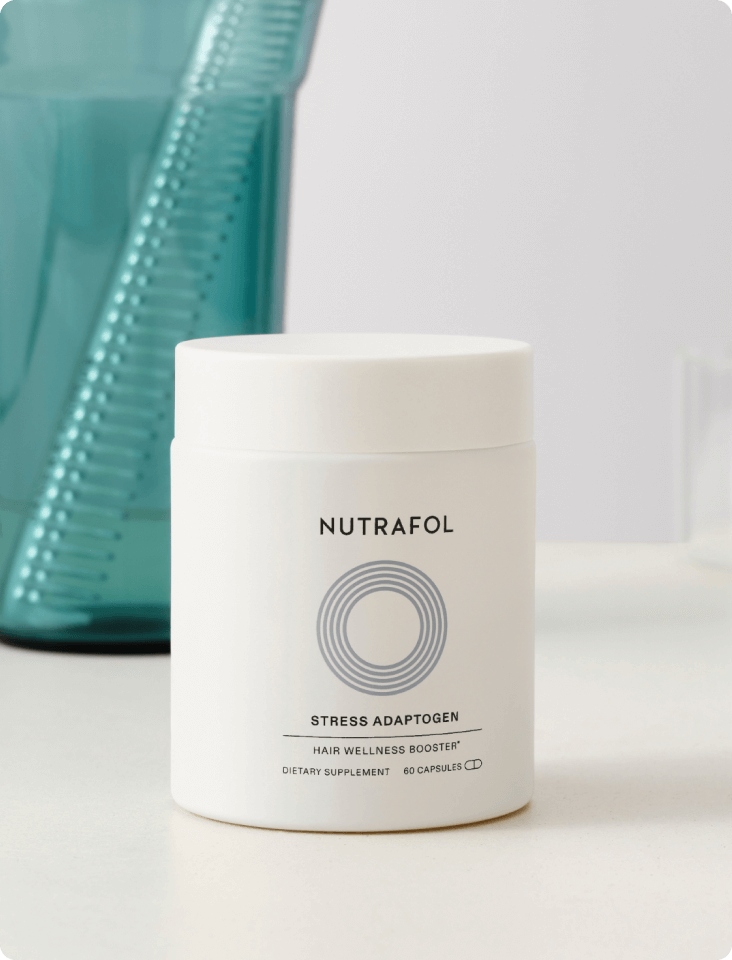 De-Stress Hair Growth Duo
Hair Growth Nutraceutical
Improves hair growth by targeting root causes of hair thinning with added stress support from adaptogenic, medical-grade ingredients.1-9
Choose a Hair Growth Nutraceutical:
Choose a Delivery Schedule:
Natural, medical-grade ingredients
Get results
in 3-6 months
Once daily, and with a meal, take 4 capsules of your Nutraceutical and 2 capsules of Stress Adaptogen—an efficacious dosage that contributes to visible results in 3-6 months.
Tear open the Nutraceutical refill pouch and pour the contents into the reusable jar once empty.
Visibly thicker volume2
Visibly less shedding2
Hair that grows faster, stronger, and longer1,2
Visibly thicker lashes and brows2
Reduces feelings of stress10
Improves sleep10
Helps the body manage stress5,6,9
Boosts overall wellness5
Helps balance the hair cycle6,7
Gluten, dairy, soy, hormones, drugs, artificial additives. Non-GMO.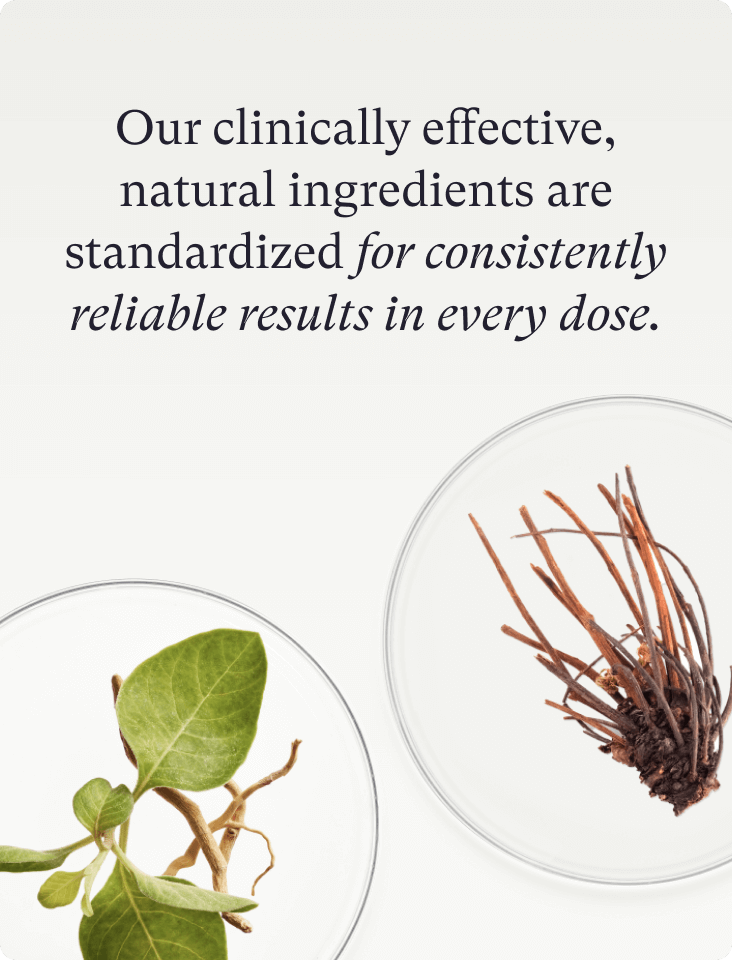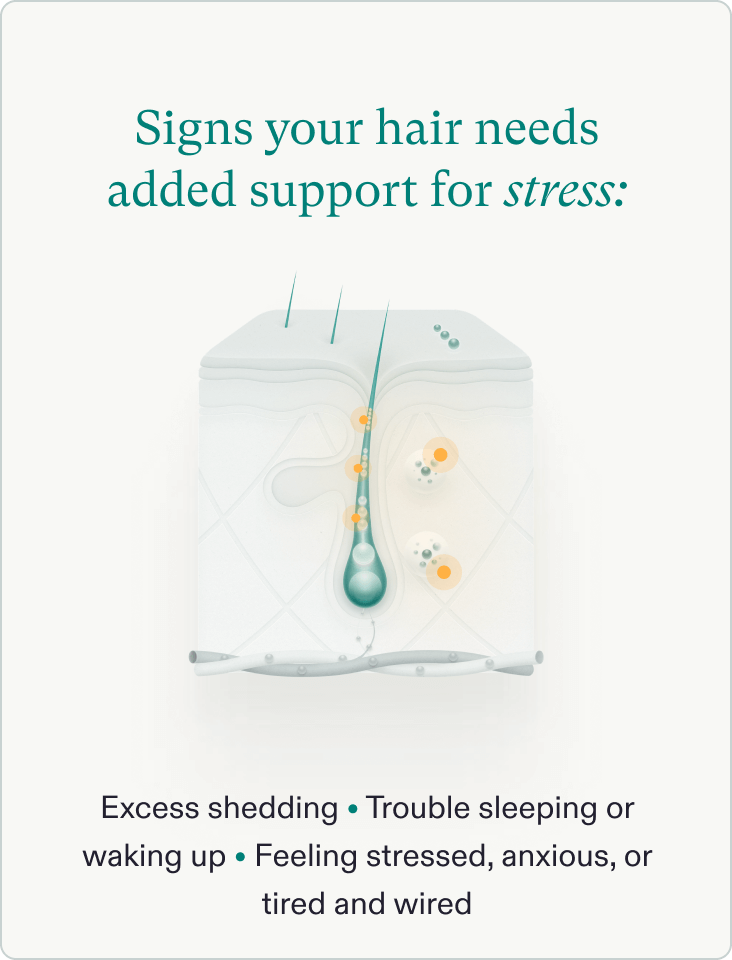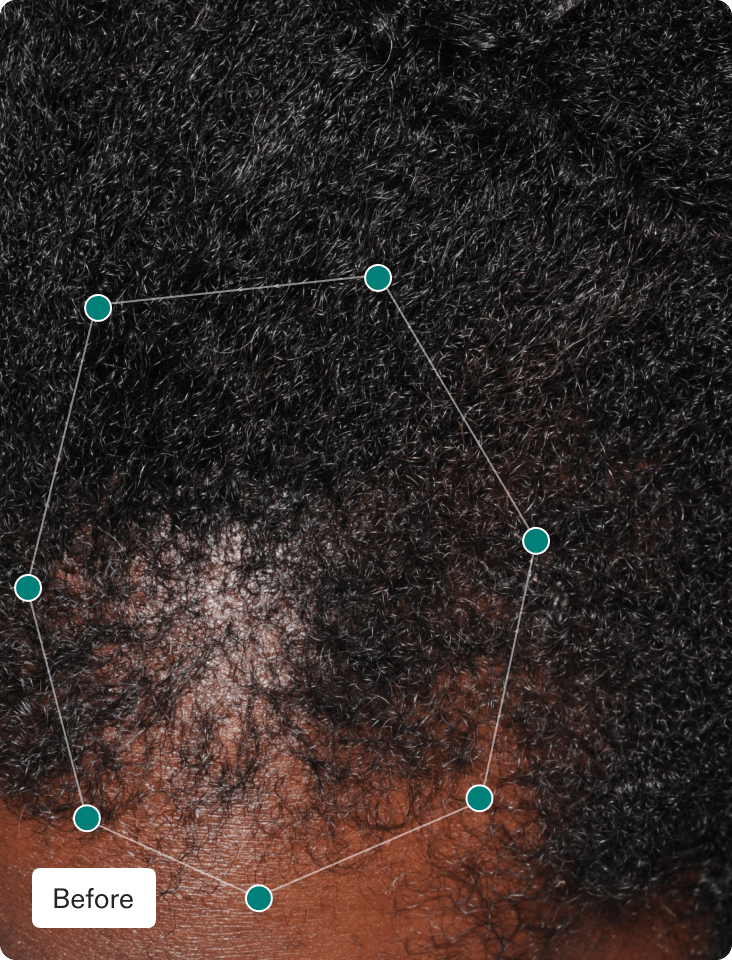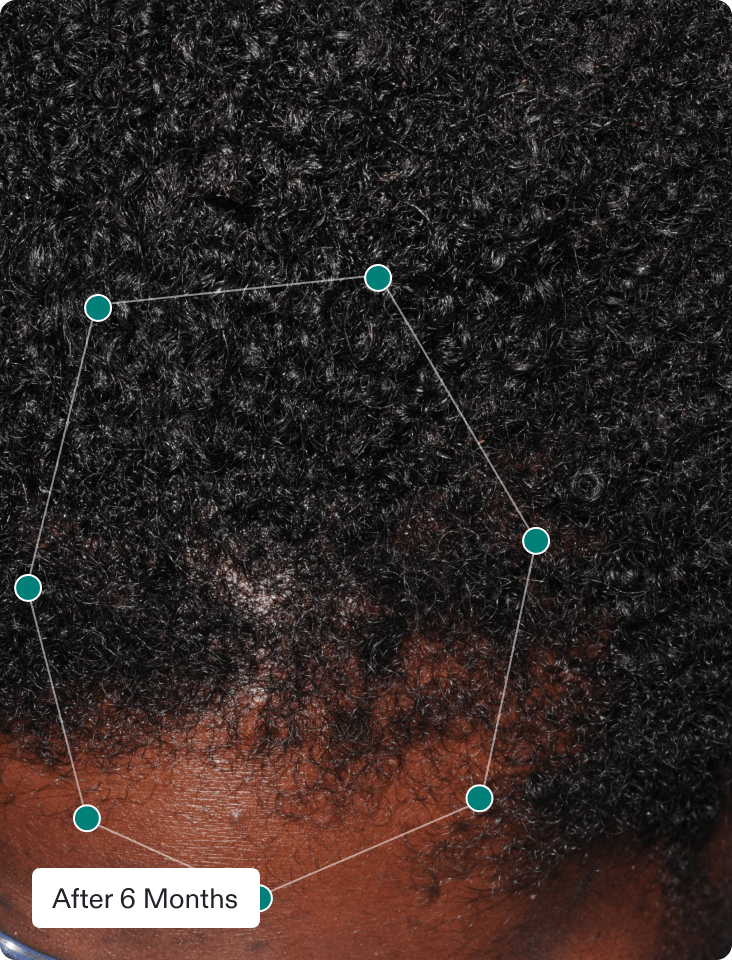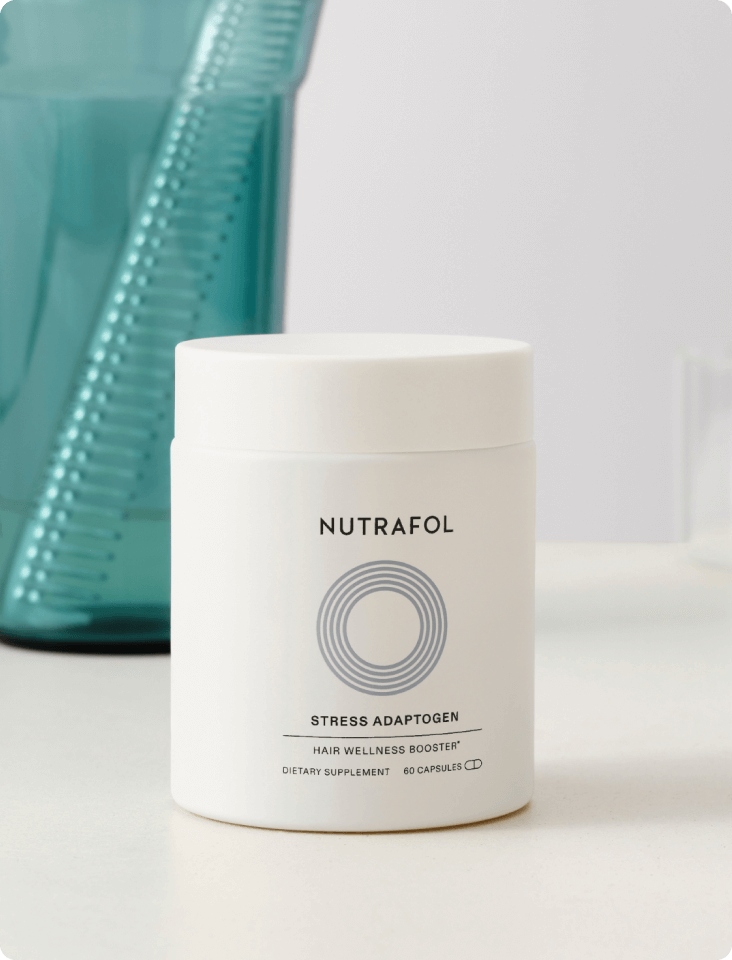 A 2-tiered approach to target the 6 root causes of thinning with added support to balance the body's stress response.
A 2-tiered approach to target the 6 root causes of thinning with added support to balance the body's stress response.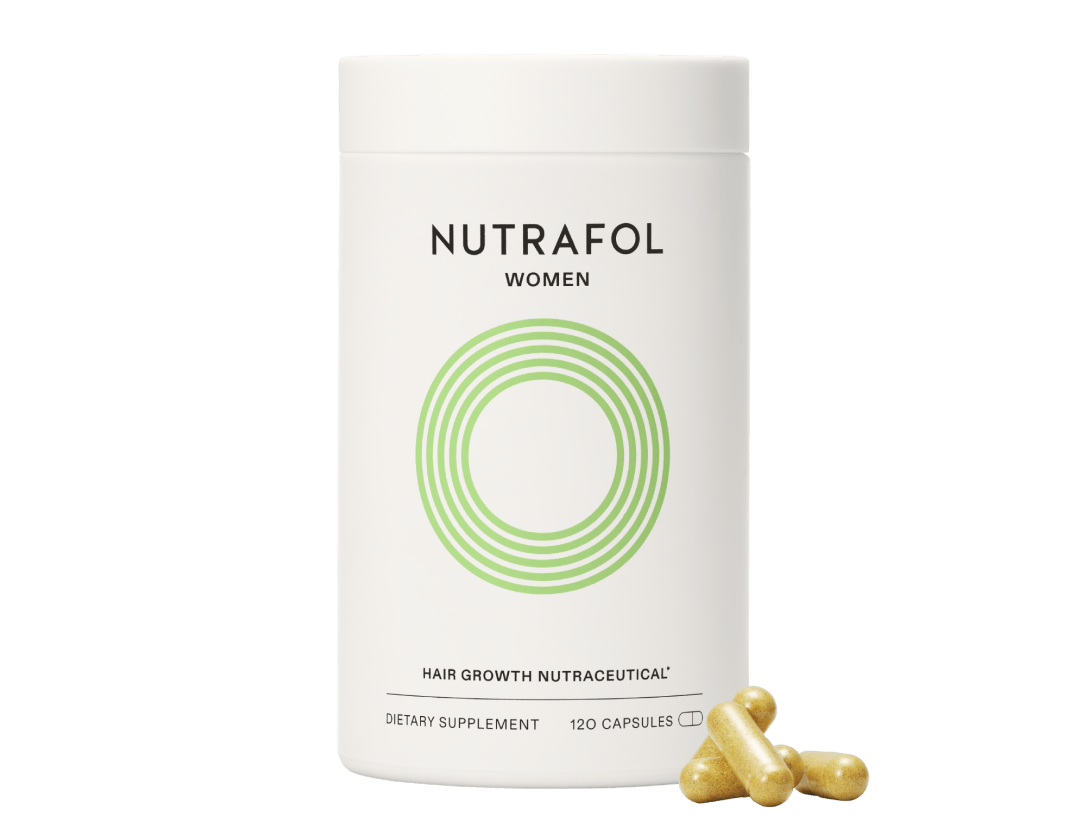 Hair Growth Nutraceuticals
The Foundation for Hair Growth
Improves hair growth, visible thickness, and strength by targeting multiple root causes of thinning.1-4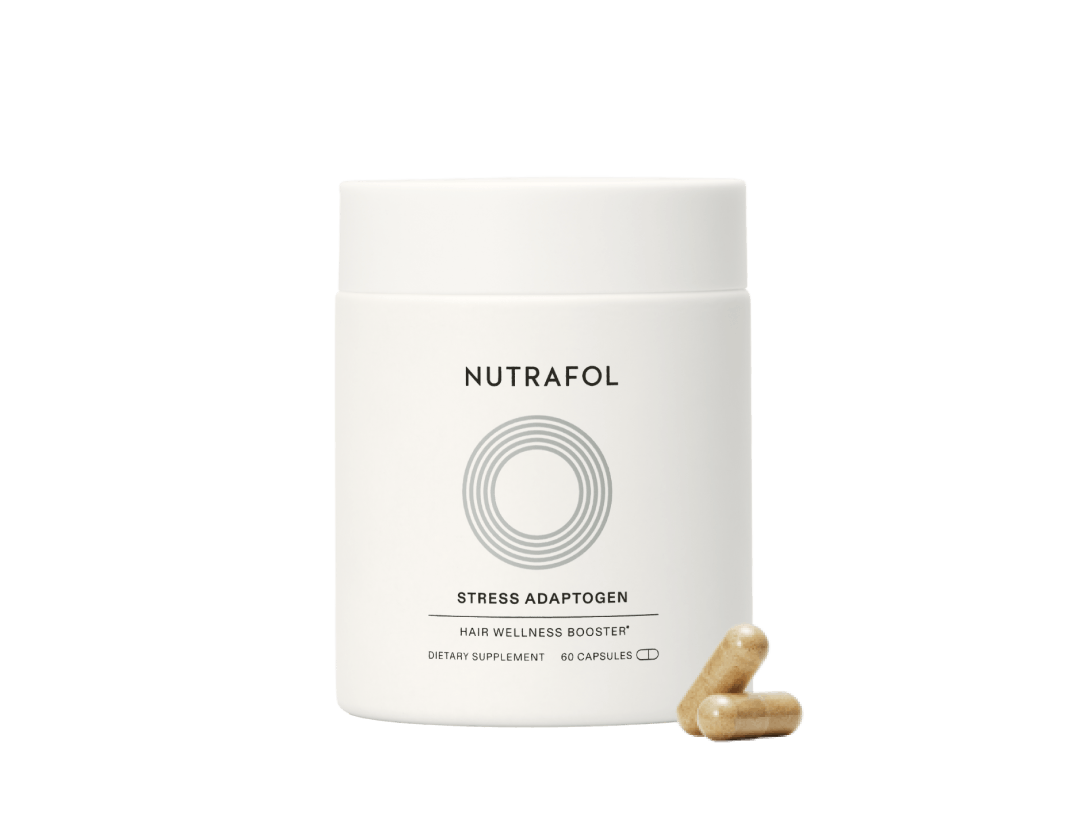 Stress Adaptogen
Targets physical and emotional stress as a root cause of a compromised hair wellness with balancing adaptogens.5-9
The stress-hair
connection

.
75% of Americans report increased feelings of stress.1
Excessive shedding or all-over thinning hair, not just at the hairline or part. You also may feel stressed or anxious, have trouble sleeping or waking up, or feel tired or wired throughout the day.
The stress hormone cortisol signals hair follicles to prematurely shift from growth to rest where the hair can no longer grow. Over time, stress can also disrupt our hormones and increase nutrient deficiencies needed for hair growth. Chronic stress can result from a demanding job, caretaking, toxic relationships, or poor sleep habits. Acute stress can be caused by events like a big move, a breakup, illness, or surgery.
Sensoril® Ashwagandha helps you build resistance to stress by balancing elevated cortisol.
Results you can see and feel.
Visibly thicker and stronger hair in 3-6 months.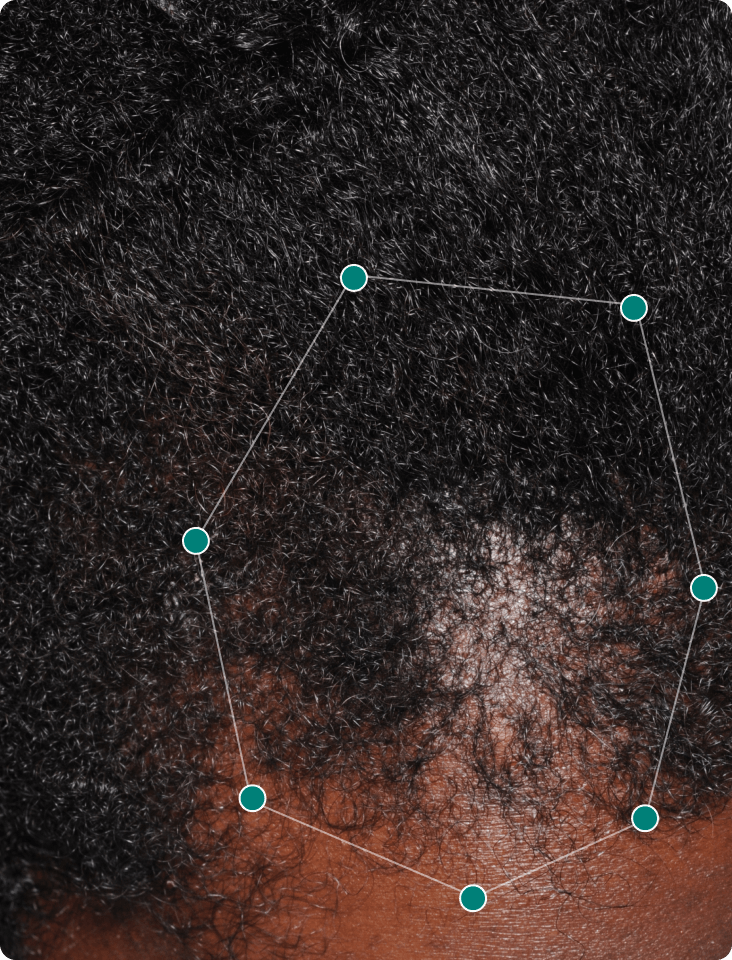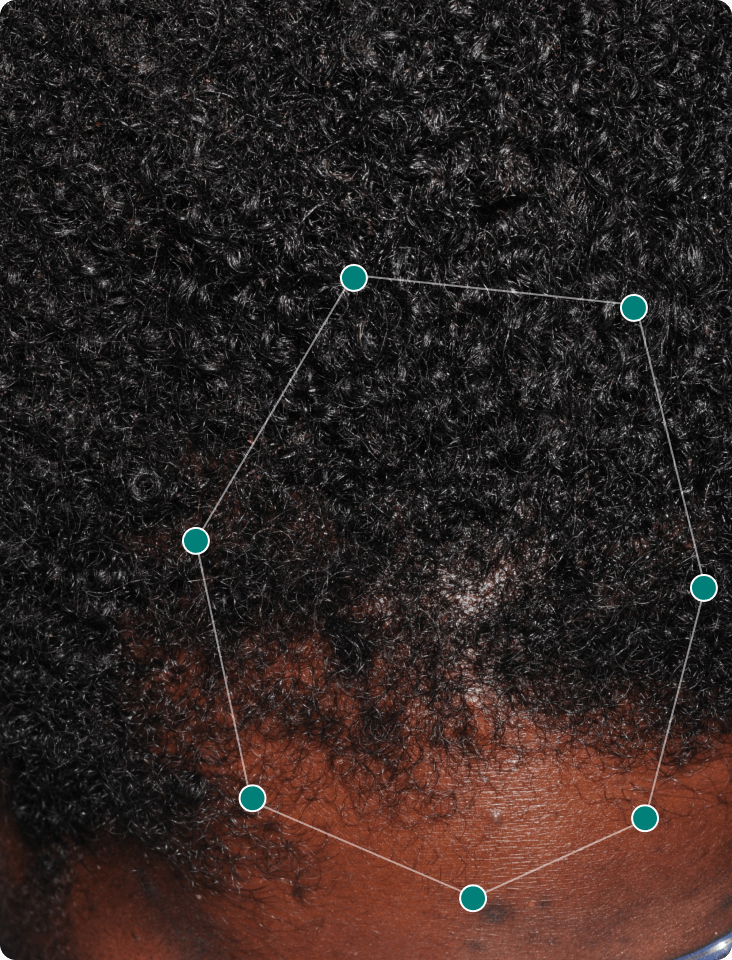 Tia, 35
Using Women's Hair Growth Nutraceutical for 6 months.
Using Women's Hair Growth Nutraceutical for 6 months.
Rita, 54
Using Women's Balance Hair Growth Nutraceutical for 12 months.
Using Women's Balance Hair Growth Nutraceutical for 12 months.
Carol, 57
Using Women's Balance Hair Growth Nutraceutical for 6 months.
Using Women's Balance Hair Growth Nutraceutical for 6 months.
Recommended by 4,000+ healthcare and hair professionals
"We are learning that stress affects our body more than we can imagine. It is a leading co-conspirator in hair thinning. Nutrafol addresses stress in a unique, modern way by using stress adaptogens."


We're serious about facts. Ask away.
Our Women's formula is generally best for women of childbearing age (18-44). It targets 6 root causes of hair thinning with 1 comprehensive formula. Women's Balance is boosted with additional hormone- and aging- supportive ingredients like Maca, Astaxanthin, and extra Saw Palmetto that are helpful for addressing hair thinning in peri- and postmenopausal women (typically ages 45+ or those concerned with hormone imbalances).
Postpartum uses breastfeeding-friendly botanicals to address postnatal nutritional gaps and stress for better hair growth and wellness through whole-body recovery post-childbirth. This product was designed to support women postpartum without the need for a targeted booster. Some of the ingredients in our Hair Wellness Boosters have not been tested for safety in breastfeeding women.
While our Hair Growth Nutraceuticals address all 6 root causes of hair thinning, some of us need added support for our most problematic root causes based on our current lifestyle. Our targeted boosters are complementary formulas to help personalize and focus your growth journey in areas you need it most. Stress Adaptogen is designed to provide additional stress support with ingredients that improve the stress response and help your body become more resilient to mental and emotional stressors for a healthy hair growth cycle.
Nutrafol products were formulated to promote hair growth and hair wellness for all types of hair. While the characteristics of hair strands may vary by ethnicity, the underlying root causes that affect hair follicles can affect all people equally.
In a recent clinical study, we examined the effectiveness of Nutrafol in African American, Asian, Hispanic, and non-Hispanic men and women. All ethnicities saw less shedding after 2 months and improved thickness, growth rate, scalp coverage, and shine after 6 months of taking our Hair Growth Nutraceuticals.
In our clinical studies, women showed results in 3-6 months. Results may vary.
1-3 Months
Hair strengthens from within. Notice less stress and better sleep. Look for shinier hair with less shedding and breakage.
3-6 Months
You may notice improvement in fullness and volume.
6+ Months
Experience visible changes like faster-growing hair that's thicker and stronger.
No. Facial and body hair are triggered by different factors than the hair on our head. Saw Palmetto in our hair growth nutraceutical helps combat DHT, which may actually prevent facial hair growth.
You know your body best—but, if in addition to thinning hair, you are experiencing excess shedding, feeling stressed or anxious, having trouble sleeping or waking up, or feeling tired or wired throughout the day, this combo could be for you.
Our Hair Wellness Boosters don't grow hair on their own! They are hyper-focused on balancing one of your key root causes of hair thinning to unlock the power of your Hair Growth Nutraceutical. Stress Adaptogen promotes hair wellness with adaptogens that pair with Ashwagandha to balance the stress response.
If you are a subscriber you can edit, swap, and add other products to your deliveries through your account page. Simply log in and select "Manage Subscription."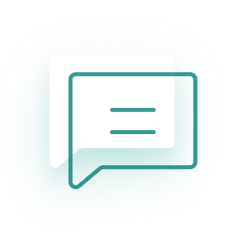 Have questions?
Chat with our customer support team.
Monday - Friday 9am to 6pm (EST).
You can also text or call us at:
Or reach us via email at: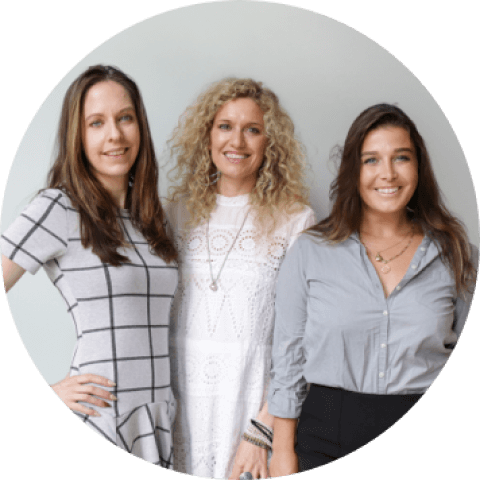 We're here for you.
More than a supplement subscription, we're committed to supporting you as you grow.
*According to IQVIA Provoice survey for 12 months ending March 31, 2022.
1. Ablon G. J Drugs Dermat, 2018. 2. Stephens T. et al., JCAD 2022. 3. Ablon G, et al. JDD, 2021. 4. Berkowitz S, et al. ASDS, 2020. 5. Spasov AA. Phytomedicine. 2000. 6. Wang, J. Chin Med J. 2016. 7. Kang, J. Eur J Derm. 2009. 8. Wang, J. Chin Med J. 2015. 9. Panosian A. PhytoMed, 2010. 10. Auddy B HJ. JANA. 2008. 11. Zlotta, A.R. Eur Urol, 2005. 12. Pytel, Y.A. Advanced Therapeutics, 2002.